Have you ever heard anyone talk about shooting in RAW or JPEG? Or RAW and JPEG? If you don't shoot in RAW, it's probably very confusing. Or maybe you know what shooting in RAW is, but just don't know if it's worth it or where to start.
I was one of those people about a year ago. I know I say that in almost every tutorial, but I want to encourage you that you can do this, too!
A RAW file is essentially a digital negative. It contains all the information necessary to make a picture, like a negative. When you shoot a picture, no matter what kind of digital camera you've got, you initially shoot a RAW file. Your camera will then automatically convert it into a JPEG. DSLRs and certain compact cameras will allow you to save the RAW file as well.
So why would you want to do that?
The RAW file records all the information possible about the picture. Because it saves it, you can then go back later and change certain things like exposure, white balance, contrast, brightness, and saturation if your settings weren't quite right. RAW files are safety nets. Your ISO can't be changed later on, so you need to be right on with that.
So let me walk you through changing your settings to shoot in RAW on a Canon Rebel.
See where it says "L" down in the bottom right? That means you're just shooting large JPEGs. If you go to Menu, then Quality, you can choose to shoot in RAW, or RAW plus JPEG. I choose to shoot RAW plus JPEG because it's easier for me to skim through my pictures on the computer, and because I essentially hope to use the JPEG and use the RAW only if necessary.
Once you've chosen to shoot in RAW, you can take a picture. Be careful, because RAW files take up a lot more room than JPEGs, so you'll need extra cards if you shoot a lot.
Okay, so now go get your camera and shoot something. Go on. I'll be right here when you get back.
Here's my picture. This is the JPEG: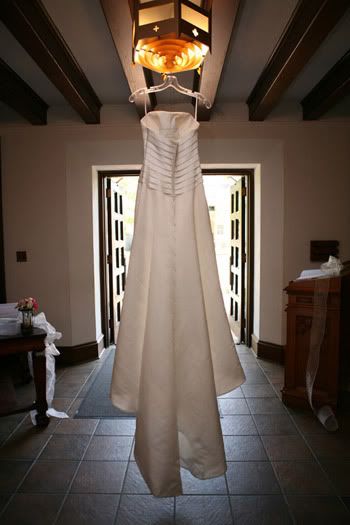 It's a bit dark. I didn't expose properly so I'll use the RAW file to make the fixes. If you open up the folder, it will look like this: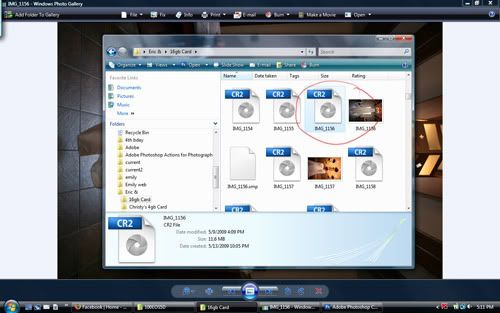 The CR2 files are the RAW files. In Nikon, they're called something else. Now if you have Bridge or Lightroom, there are more efficient ways of processing large amounts of RAW files, but I tend to do this if there are just a few I want to fix in RAW. I'm also assuming you have Photoshop. If you don't, never fear. You camera comes with RAW conversion software. I don't know anything about it, though. Sorry!
If you double click on the RAW file, this will pop up.
This first page is where you can make all the basic fixes, like exposure, white balance, etc. A lot of times, those are the only two fixes I'll make. Like this one, I changed the white balance to be a bit cooler, bumped up the exposure, fill light, brightness, and contrast. The red circles are where I tweaked.(Except the large red circle at the top – those pages are the other, more intricate changes you can make. You can play around with them to see.)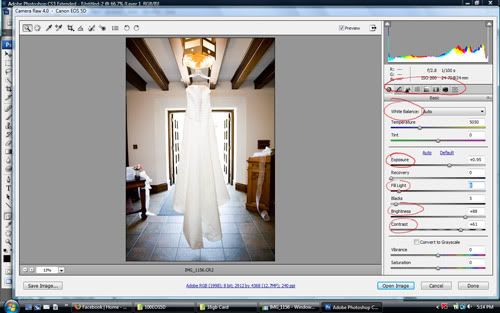 Once I'm done, I click open image and it will open in Photoshop. Here's my final image after a few final adjustments in Photoshop: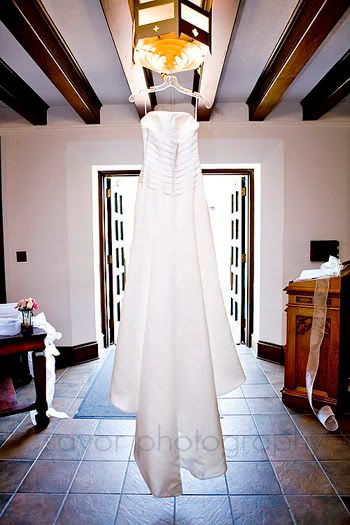 So let's recap:
Try not to rely on RAW for saving your photos. Aim for perfect exposure and white balance and use RAW as a safety net only. It'll save you time not to have to make drastic corrections to each file.
If you're processing large amount of RAW files, don't do it the way I just showed you. Instead, use Lightroom or Bridge.
RAW files are totally neutral and will not generally look as good as JPEGs at first.
ISO cannot be changed in RAW.
RAW files are BIG. Be prepared.
RAW files must be converted to a picture format, such as JPEG before they're actually images.
Changing the exposure/brightness/recovery/fill light too much will take away from the image quality. I usually find that more than plus or minus one stop starts reducing quality.
There are huge advantages to shooting in RAW. Every now and then, I save an image that wouldn't have been recoverable as a JPEG. Yay for RAW! So try it out for yourself and let me know how it goes for you.
I'm trying to think of a clever-yet-annoying RAW pun to end this post, but I just can't. I guess you get a RAW deal with this tutorial.
Find more great tutorials about your camera:
Rachel is a self-taught blogger-turned-photographer and mother of two. Once the "bad picture taker" of the family, she opened up her own photography business within a year of buying her first DSLR. She is located in Eastern North Carolina and can be found at Savor Photography and her blog, The Adventures of an American Mum.